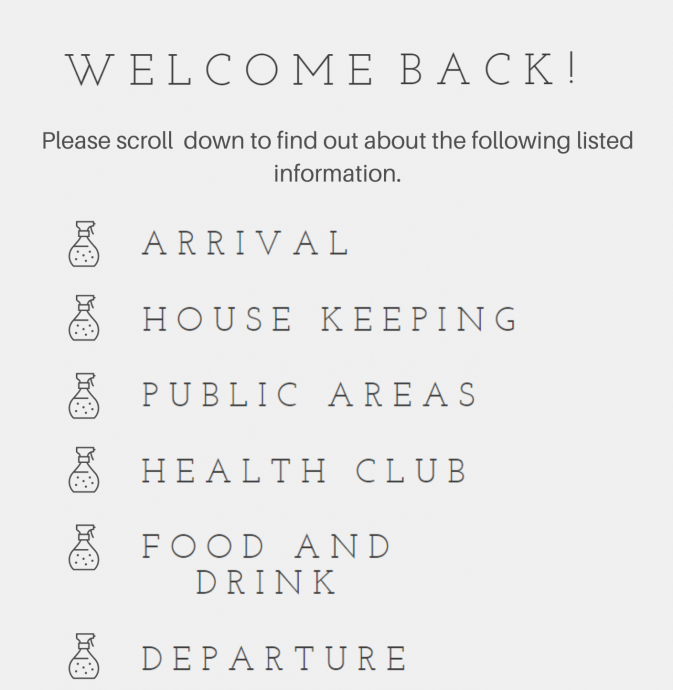 At the Osborne we have taken every precaution to ensure both staff and guests have measures in place to reduce the risks of Covid-19. 
As government guidance changes we will be updating the measures that we have to make sure they are as up to date as possible and will be under constant review. We ask that all guests read the following information on how this may affect their stay.
Although we are taking every precaution, the Osborne hotel is not responsible for any symptoms that a guest may get during or after their stay with us. 
If you would like to see a copy of our risk assessment before your stay do not hesitate to request one from enq@osborne-torquay.co.uk
Please scroll down to see the listed information.

From the beginning to the end of your stay...
We request that if you are displaying any symptoms of Covid-19 that you do not enter the hotel. These include a new persistent cough, high temperature or loss of taste and smell.
Each guest will be temperature checked before check in. If a guest's temperature is above 38° they will not be permitted to stay with us and will be asked to leave the premises. In the event of not completing your stay with us due to COVID-19 symptoms, guests will not be issued a refund.
Reception surfaces will be cleaned regularly with equipment being wiped down between each guest.
Hand sanitisers will be set up at Reception, we politely request you use these on arrival and throughout your stay where possible.
Our reception teams will sanitise their hands between each guest.
All room keys will be sanitised.
Please call the reception desk from your hotel room should you require any assistance to reduce congestion at the front desk.
Social distancing signs will be in place to ensure we are adhering to government guidelines.
If you require luggage to be taken to your room, reception will need to be informed when checking in. Please note that there may be a wait as staff will need to change into clean protective attire between each guest.
Check-in will be from the later time of 3.00pm to account for the extensive cleaning within each room
We will be reducing the amount of contact staff have with guests and their belongings. Because of this, we will not be able to store luggage at reception for guests.
All payments for rooms will be paid at check in. We ask where possible, that guests use credit card and contactless payments.
All guest rooms will be cleaned and fully sanitised using hotel grade cleaning supplies and not re-entered prior to your arrival.
Our Housekeeping team will be provided with full PPE to use whilst cleaning your room and the PPE will be changed between each bedroom. They will also have all windows and doors open during this process to ensure proper ventilation.
We will be looking to reduce the amount of time that housekeeping are within guest rooms during your stay so if you do wish for your room to be cleaned you will have to arrange this with reception ahead of time. Once this has been arranged the following procedure will have to be followed; Windows must be left open by guests to ensure ventilation, you must vacate your room for an hour before house-keeping clean the room and suggest waiting an hour before re-entering once cleaned. If you require any towels or linen, please ring down to reception and these will be left outside of your door.
Certain items will be removed or replaced from our rooms for hygiene purposes; this includes cushions and bed runners.
Only important reading information will be left in the room and will either be single use or able to be cleaned when guests depart.
Our tea making facilities will be equipped with products that are individually packaged.
There will be visible signage throughout the hotel regarding cleaning and safety protocols.
When moving around the hotel we request that you please be considerate of the 2m social distancing rule
Hand sanitisers have been set up throughout 'high traffic' areas of the hotel, we politely request that you use these.
Should you need to use the lift at the hotel we ask that you only enter the lift with those staying in your room.
All leaflets and collateral will be removed from the hotel- should you require any information please do not hesitate to call reception who will be more than happy to assist.
All staff will be issued with the relevant PPE and will be trained on all updated safety procedures.
We will be extensively cleaning all door handles, handrails, lift buttons and other high touch point areas throughout the day.
During the night our team will deep clean our public areas.
In our public area bathroom facilities, we will be providing paper towels.
In order to avoid unnecessary use of the public bathroom facilities, we politely request that our in-house guests use the bathroom facilities in their room where possible.
The outdoor pool will now be open to staying guests to find out information please click here
With plans for the Health Club to reopen on 25th July we ask members to keep checking our website for when we publish our procedures.
The tennis court will be available to book, equipment should be brought back to reception between uses to be disinfected.
The outdoor pool will be open from 11th July for those staying as guests in the hotel and the Osborne Apartments 8.00-18.00, weather dependant. To find out more information please click here
Only guests staying within the hotel or the surrounding Osborne Apartments will be permitted to dine in the Crescent Restaurant.
Breakfast will no longer have a continental buffet and these items will be prepared to order. Please note there may be a slight wait for these items.
To allow for socially distanced tables we have limited the number of tables within the restaurant. This means there may be a wait time to be sat at your table for breakfast.
Each guest will be temperature checked before entering the restaurant. If a guest's temperature is above 38° they will not be permitted to dine with us.
In the short term only, room service dining is restricted to our breakfast menu. The Terrace will offer take-away meals which can be collected. (weather permitting).  
All food & beverage including kitchen team members will be provided with relevant PPE and safety training.
All cutlery and crockery will be fully sanitised between use.
There will be a set dinner menu for diners to choose from.
Booking is required to dine in the restaurant for dinner service ahead of time.
Terrace
Although open to the general public, we will be offering a reduced menu that will be open for takeaway only. This will be served in biodegradable containers with disposable cutlery and disposable cups.
Condiments will be available in sachets at no additional charge please ask for these when ordering.
The grounds will be open to those purchasing from our terrace bar and outdoor seating will be safely distanced a part. We ask that this is not moved from where it has been originally placed.
All outdoor seating will be disinfected regularly throughout the day.
In the event of the terrace being closed due to bad weather, the function room shall be opened for takeaway with the terrace menu still being served in disposable containers which can be eaten in our function room or taken off-site.
We ask that all guests leave their room windows open to allow for ventilation before departing and reserve the right to ask guests to return to the room to do this
All card machines will be sanitised between guests
All room keys will be taken from you and sanitised after use.
We request that you use the hand sanitisers provided before departing the hotel.
Temperature Checks
In the instance of failing a temperature check guests will be given the opportunity to have a second test. This will be after a set amount of time to ensure an accurate reading. 
If the 2nd test is another high reading the guest will not be permitted to stay or dine with us.