The Terrace Bar
The panoramic views across the bay can be enjoyed from The Terrace Bar & Grill during the summer months.
The Terrace is open from 11am until late during the summer opening months. The Terrace Menu is available from 12pm until 9pm all week but with weather depending, of course.
You can take in the breathtaking views with a coffee and cake or light bite, or really go for it with our BBQ offerings. Afternoon tea enjoyed alfresco, with views across the hotel's gardens and out over Torbay, is a joy to behold.
You can always ring the hotel on 01803 213 311 to make sure the Terrace is open.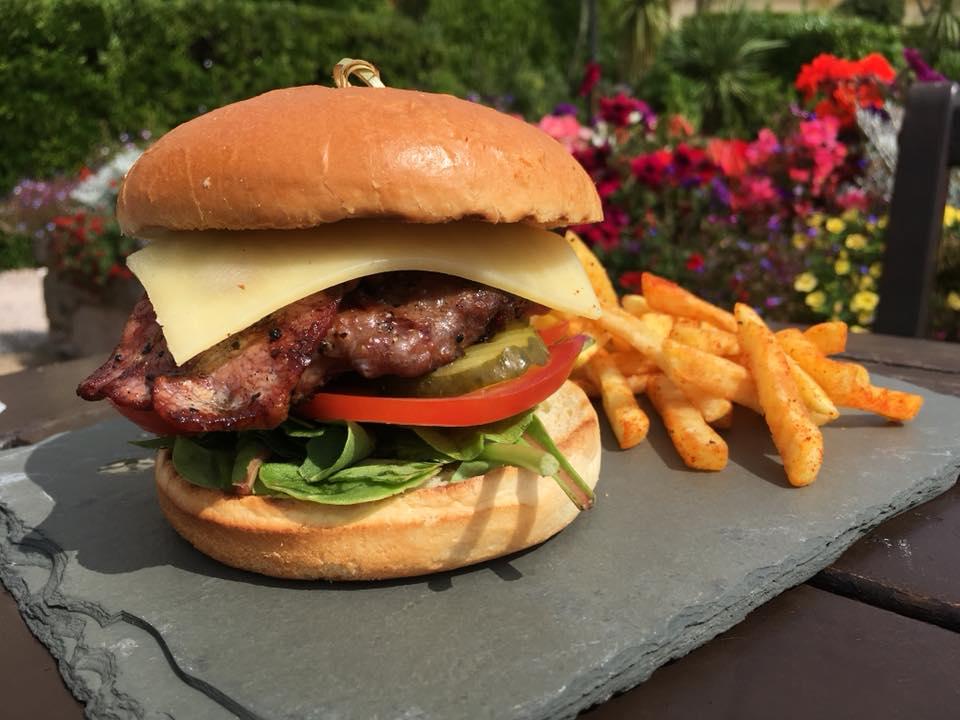 Sample Terrace Menu
Bread and Olives | £5.00
Crispy Mozzarella Sticks | £6.50
tomato salsa and salad
BBQ Chicken Wings | £7.50
BBQ sauce and salad
Mini Falafel Balls | £6.50
mint yoghurt and salad
Pigs in Blankets | £7.50
cranberry sauce
Scampi | £7.95
tartar sauce and salad
CHOOSE BETWEEN A BAGUETTE FILLING OR A JACKET POTATO TOPPING
Bacon, Lettuce and Tomato | 8.50
Smoked Salmon and Avocado | 8.95
Cheese and Tomato Chutney | £7.50
Ham and Mustard | £8.00
Prawn and Crayfish Marie Rose | £8.95
Tuna Mayonnaise | £8.00
ALL SERVED WITH SALAD AND A RED CABBAGE COLESLAW
ALL SERVED ON CIABATTA WITH WATERCRESS
4oz Sirloin Steak | £9.50
fried onions and mushrooms
Smoked Salmon | £9.95
avocado and soft boiled egg 
Welsh Rarebit | £8.00
Gourmet Fish Finger | £9.95 
tartar sauce
6oz Beef Burger | £12.00
cheese, bacon, onion rings, salad, coleslaw and Cajun fries
Bean Burger | £11.50
salad and celeriac remoulade in a beetroot bun with Cajun fries 
Lamb Kofta | £11.50
salad, red cabbage coleslaw and pitta bread
Chicken Skewers | £11.00
Mediterranean vegetables, mixed salad and Cajun fries
Beer Battered Fish and Chips | £14.00
peas and tartar sauce
Charred Vegetable Pitta | £10.00
mint yoghurt and Cajun fries 
Catch of the Day | £15.50
new potatoes, lemon herb butter and watercress 
BBQ Pulled Pork Burger | £12.50
celeriac remoulade and Cajun fries 
CHOOSE BETWEEN TOMATO OR A BECHAMEL PIZZA BASE
Pepperoni | £9.50
Sun blushed tomato and pesto | £7.50
Meatfeast | £9.50
Chicken and pesto | £9.50
Seafood | £9.50
Ham, mushroom and olive | £8.50
Veggie Supreme | £7.50
Cajun Fries | £3.00
Chunky Chips | £3.00
Sweet Potato Fries | 3.50
Parmesan Salad | £3.00
Celeriac Remoulade | £2.00
Red Cabbage Slaw | £2.00
Tomato and Onion Salad | £3.00
Cod Goujons and chips | £6.50
Jacket Potato with cheese and beans | £5.50
Beef Burger and fries | £7.00
Mini Falafels and fries | £6.00
Cheese and Tomato Pizza | £7.00